Happy Spring everyone!!!
I absolutely love spring time because of the beautiful weather, vibrant colors, bold looks, and the beach! There's something so relaxing about this season, yet I do find that it is also one hectic time of the year too! I'm excited to wear my spring clothing!!! I'll possibly do a post of some of my spring clothing both old and new that I am excited to wear this season! Here's one dress though that I've been LOVING, yet haven't worn:
It's a long Kensie dress that I found at Ross for only $35 back in January! Its retail value is a whooping $148, so it's definitely a great steal! It's not in season, but does it matter?! I love the lace and the bird print, and the cute cord that you can tie around the waist. I believe it's called, the "sleeveless scoop-neck bird-printed A-line."
Here's a model wearing it: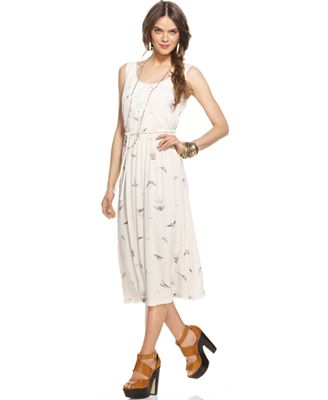 Very cute! I'm definitely much shorter than her, but I'll make it work somehow! I'm excited to wear this soon as long as it's bright and sunny. It's supposed to rain in San Diego today, but so far so good!
What do YOU love most about spring? :)